Time to read: 5 minutes.
Say goodbye to the cold of winter and hello to the newest decoration trends for spring!
This is the perfect opportunity to refresh your decor with brand-new ideas, ranging from round shapes and natural decorations to vintage from the 70s! Sit back comfortably and discover the latest trends for spring 2023!
The Most Popular Trend of 2023: Round and Soft Shapes


It is the hottest trend of the year, shaking up the world of design and architecture!
It's been proven: health experts agree that round shapes and curves have therapeutic effects on our well-being and help to create revitalizing and friendly spaces. With the last few years having their share of difficulties, people have been looking for ways to restore a sense of comfort and make their home feel like a soft and protective cocoon. Feeling good at home is the first step to feeling comfortable in one's skin!
To maximize coziness, we advice you to adopt materials like wool, wicker and, of course, wood.
Don't overlook your lighting! A soft and warm light is ideal to bring a relaxing and welcoming atmosphere to your house. How? With SMART AND GREEN lamps, you have complete customization of your lights. Thanks to the app, you can adjust the intensity with just one tap and choose a warmer or cooler light, depending on your decor and moods.
For lighting which fits the theme of curves and round shapes beautifully, the catalog offers a wide range of choices.
Particularly noteworthy are:
To highlight the curves of your interiors and exteriors, pair them with soft colors like sand, gray-beige (also called greige!) and even cement.
Natural and modern, these colors fit amazingly well in a relaxing atmosphere and will make your home a friendly and inviting space to recharge.

Vintage Decor is back


Ah, vintage style…
In a post-Covid world where we are trying more than ever to keep our spirits up, trends have shifted to the 70s! Fashion is a mirror of society, as they say!
The key here is: Energetic!
One of the major trend of 2023, this vintage style decor is proud of its bold colors, playful aspect and original furniture.
A key element of this trendy style is the "Color block". Painting blocks of vibrant or dynamic colors like yellow mustard or avocado green and associating them with furniture to create gorgeous centerpieces. Sure to catch the eyes of your guests and energize your interiors!
Speaking about furniture, a timeless vintage classic is making its comeback and causing the world of home design to lose its mind: Ribbed glass! A true icon of the 70s, ribbed glass is the detail that makes all the difference. It looks fantastic on a vase, for tables and even cabinet doors!
There are no 70s without patterns, what makes this era so groovy! The latest trend for spring this year is to mix it up and choose patterns not only for pillows or plaids but, more importantly, for the couch, the chairs and even for the wallpaper. Be creative, let your imagination run free and combine different patterns together to create yourown original and positive atmosphere!

A Close-to-Nature Decor: Biophilic Design. Go Green!


Biophilic design. Come again? Invented by Edward Osborne Wilson in the 1980s, "biophilic" means "love for life". We, as human beings, are constantly driven by a desire to return to nature. Biophilic design seeks to maintain this connection and invite nature into our everyday lives to improve our well-being! A biophilic design is a design close to nature.
Needless to say, we can't have a decor in harmony with nature without our friends plants and flowers, which will be, once again this year, our best allies for a rejuvenating decoration full of life.
In addition to being sumptuous and elegant, the line of luminous giant flower pots RUMBA will highlight your most beautiful plants and turn your exteriors into a lively and modern space. Schedule your cordless flower pots at nightfall to illuminate your garden with an infinity of colors.
Speaking of colors, choose among natural tones such as terracotta, sand or even an off-with color. And most importantly, green, the true star of biophilic design. Available in multiple shades like khaki, salvia or even olive, green acts as a stress reliever and brings softness and coziness to a home.
Raw materials like wood, wicker (we're obviously thinking about woven baskets, which are super trendy!), satin, linen or even bamboo will harmonize tastefully with natural colors. The trend of using recycled materials continues!
Care for a little tip? We have just the right ambiance you need to add the final touch to your natural decor! Open the Smart and Green – Mesh app and enjoy the Zen Ambience, ideal for a precious "me-time."

We have a very last little bonus tip just for you!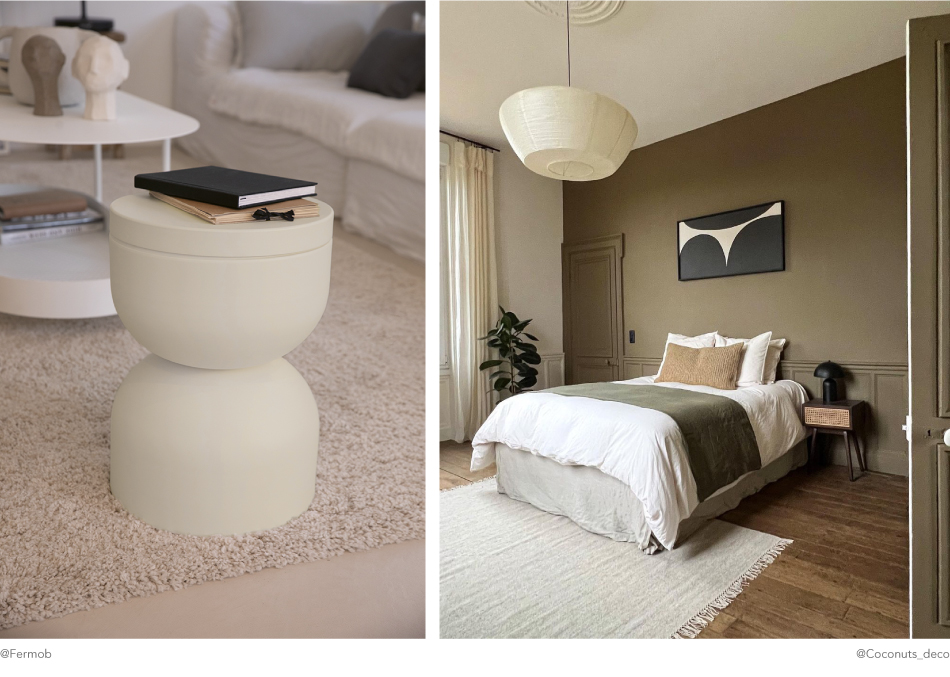 We want to tell you about the color black, the subtle detail that will make your decor stand out! It's the perfect shade to bring contrast and highlight other elements. A black throw pillow, black stitching along covers, a black painting… Black will make other colors pop while enhancing them. It is a timeless shade that will add depth to your decor.


Whether you prefer the natural, relaxing, and rustic aspect of biophilic decor or the vibrant and dynamic vintage style of the 70s, the key to successful decorating is to enjoy yourself. With a bit of creativity and a lot of you, celebrate spring in your own way!