Time to read: 5 minutes.
Since the first quarantine, we can see LED strips absolutely everywhere! People put them in their bedroom, their living room but also in bathrooms and even kitchens! It's a must-have to bring a little originality at home.
The Luminous STRIPLED
The SMART AND GREEN adhesive STRIPLED can be a great piece of a decoration in your house, and much more!
Equipped with the Bluetooth MESH technology, you can control it with a smartphone or a tablet. Thanks to the app, you will be able to change its color and even adjust the brightness intensity easily and remotely, with a distance up to 45m in an open space and 20m inside. The 3 meters long luminous led strip can withstand temperatures down from -5°C and up to 55°C. This LED strip is a great choice to light up your exteriors and interiors with style.
LEDs To Create A Futuristic Looking Mirror
If you wish to decorate your mirror and to be sure that your decoration won't be covering it, LEDs are ideal. All you have to do is stick a STRIPLED at the back of your mirror to create a modern design, that will accent your reflection as an added bonus.
This installation can also be useful, especially to people who love taking selfies and sharing a photo taken in the mirror with their newest outfit on social medias. It can illuminate the person standing in front of the mirror in every color possible.
Our advice for the perfect mirror selfie is to choose a white colored light that will give your photo a professional shooting-studio feel. As a general rule, placing a led strip behind a mirror is always a good solution to bring a trendy and modern touch to it.
However, do be careful if you chose to set a LED strip behind a mirror in your bathroom. Some precautions should be taken. Notably, be sure to choose a LED strip with a IP44 or IP65 protection rating. Those ratings assure you that the LED are resistant to humidity or water splashing, which can happen in this space.
A STRIPLED To Embellish Your Kitchen Furniture
LEDs can easily find their place in a kitchen. Under some cabinets or under a counter that is sticking out, you can plan on setting a LED strip that would be invisible until you turn it on.
Create a welcoming space that stands out from classic kitchens.
Indeed, few people think about this room when in comes to LED, yet this type of functional lighting is ideal to create a trendy vibe in this lively room. Exactly like for the mirror, a white colored light is advised. You even can enjoy the Candle ambience, available on the Smart and Green Mesh app, perfect for a romantic cooking lesson!
You can display your LED strip in a large variety of ways: Under a counter or a bar, on a ceiling or even in your drawers. Let your imagination run free!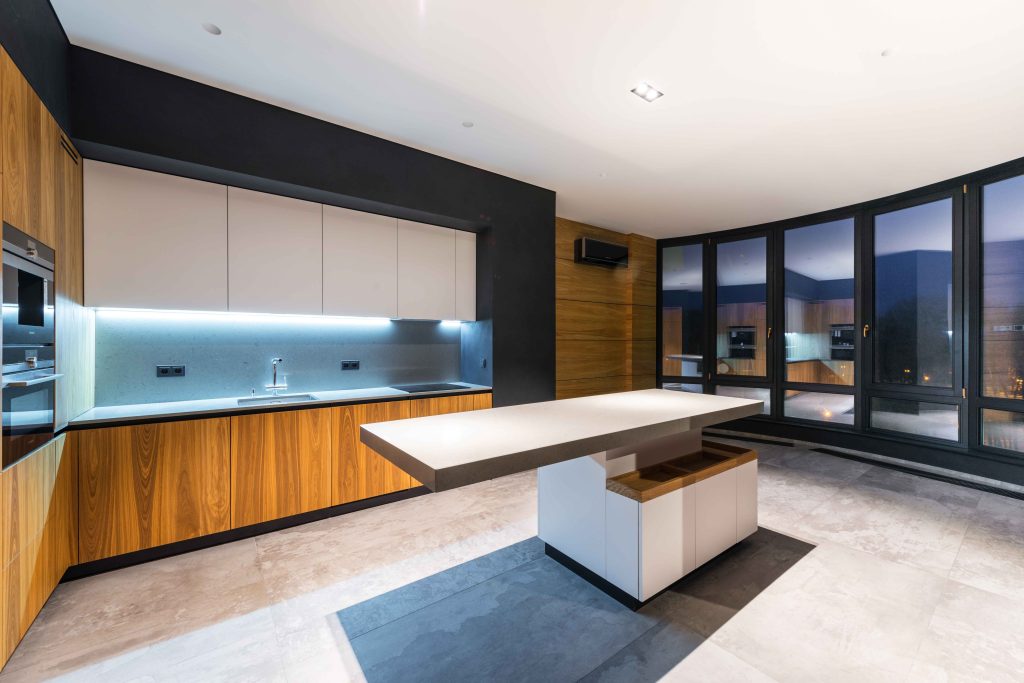 LEDs To Illuminated A Wall Recess
The perfect solution to combine authenticity and modernity. It is not a rare thing to see recesses in walls in some houses. Many people use these spaces for decoration where they place a variety of decorative objects, like books for example.
The idea here is to accent these little spaces with LED lights, of which you can adjust the color according to the theme of the room. For instance, a yellow colored light is ideal for a recess decorated with books, and a pink light is perfect to embellish a more cheerful decoration. Don't hesitate to try out new colors and theme!
For this usage, neutral colors, like white, won't work if the wall's color is already light. It will be more pleasant to pick a light with soft tones, like a light green or a sunny yellow.
Adhesive STRIPLED To Create A Path
While we are used to seeing LED strips along a ceiling, it is rarer to see them being used to highlight a path. Though, it is an orignal way to decorate any space in your house, in a room, a hallway or even a path through a garden.

This decoration idea is a flexible way to build an illuminated path that would bring harmony to your house. This creates a flow in your home and is a never-seen-before light effect. Lastly, placing LEDs up on your ceiling is a good solution to set a cozy mood with a dim lighting.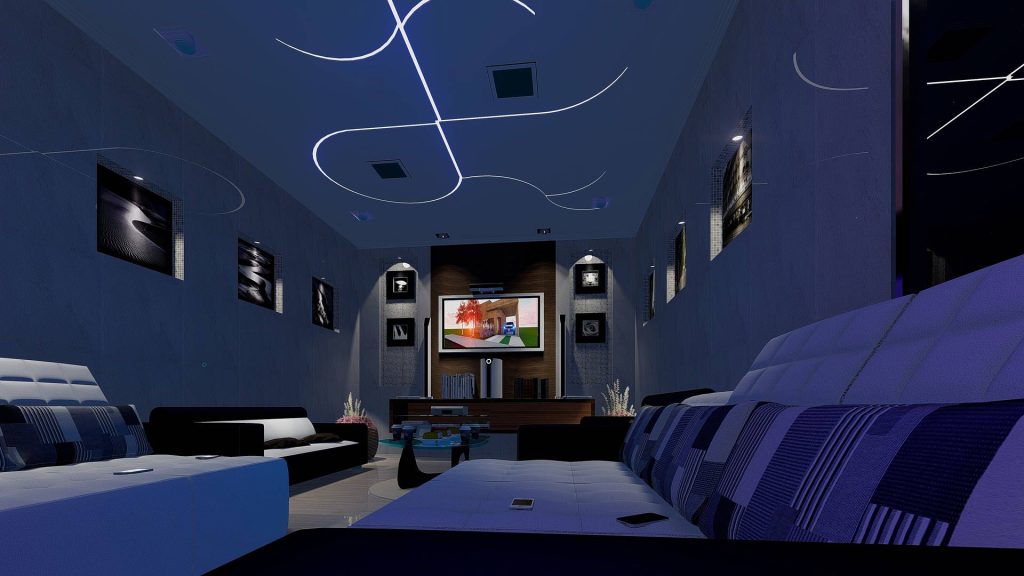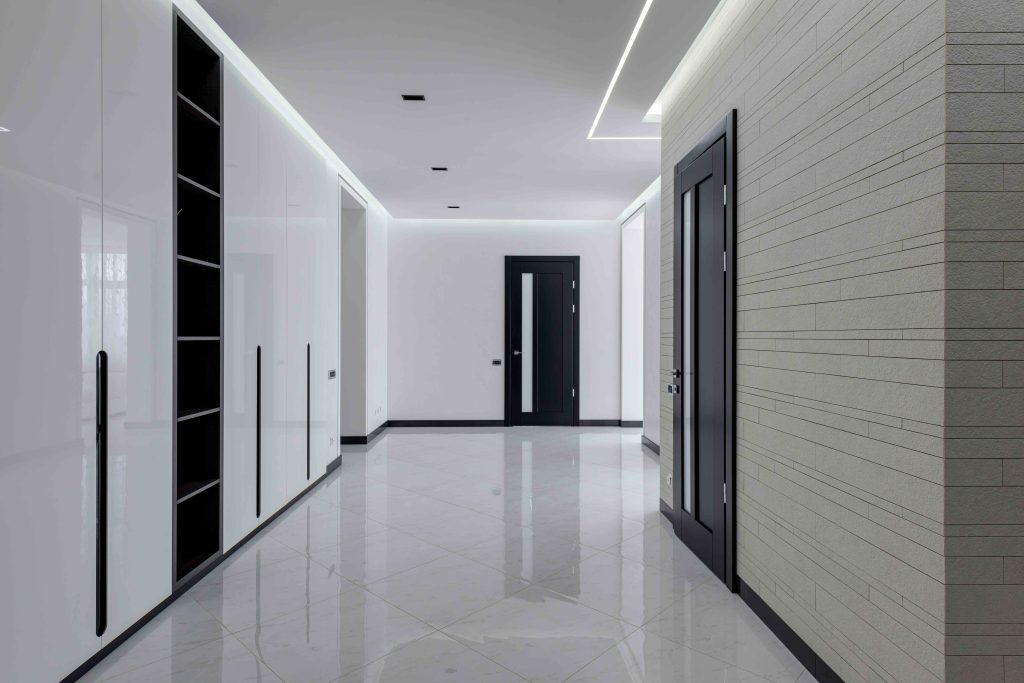 Create An Original Library With LED Strips
Reading is still a very modern activity and our today's library has to keep up with the trend. Using an adhesive STRIPLED to illuminated a bookshelf can be an innovative decorative choice that can accent your books, but also create a snuggly and relaxing mood, ideal for reading.
It comes as no surprise that the color yellow is advised for this type of lighting. However, know that blue can also bring a soothing mood, perfect for a cozy reading afternoon. Favor a LED disposition at the back of a bookshelf rather than in the front, as to give the light more depth.
Optimize Your Home Office With LEDs
If the gaming community is already swearing by LED strips behind their computer screens, know that this decoration idea can also suit your home office.
Behind a fixed screen or directly on a desk, you can customize your space with LEDs by giving you multiple ambiences you can choose from to focus.
In terms of color, orange will be perfect to bring you energy where blue will be more adapted for moments of creativity, especially for writers.
You can find more details, tips and tricks on how to use lighting in your home office in our article "Everything you need to know to arrange a comfortable and practical home office!"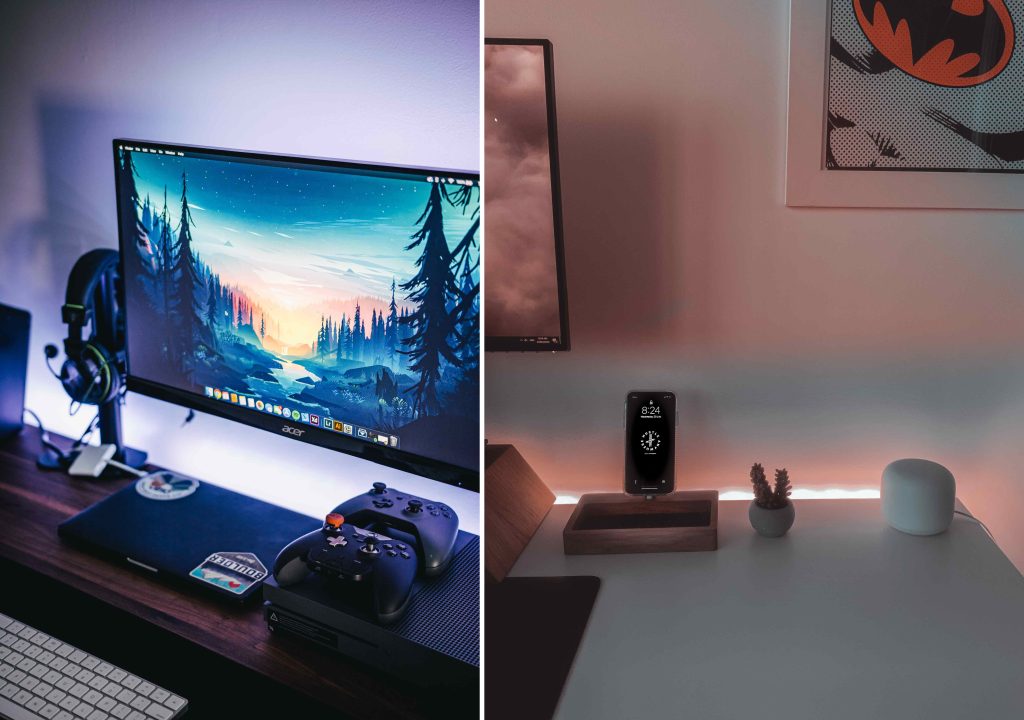 Even though some colors for you LEDs are more suitable for specific rooms, you can always have the option to vary. After all, it is one of the advantages of these strip lights: You can do whatever you please. Do not hesitate to create your own ambience with your color choices, or to enjoy our preselected ones.