Time to read: 5 minutes.
Which Bluetooth Lamps for a Natural Decoration style?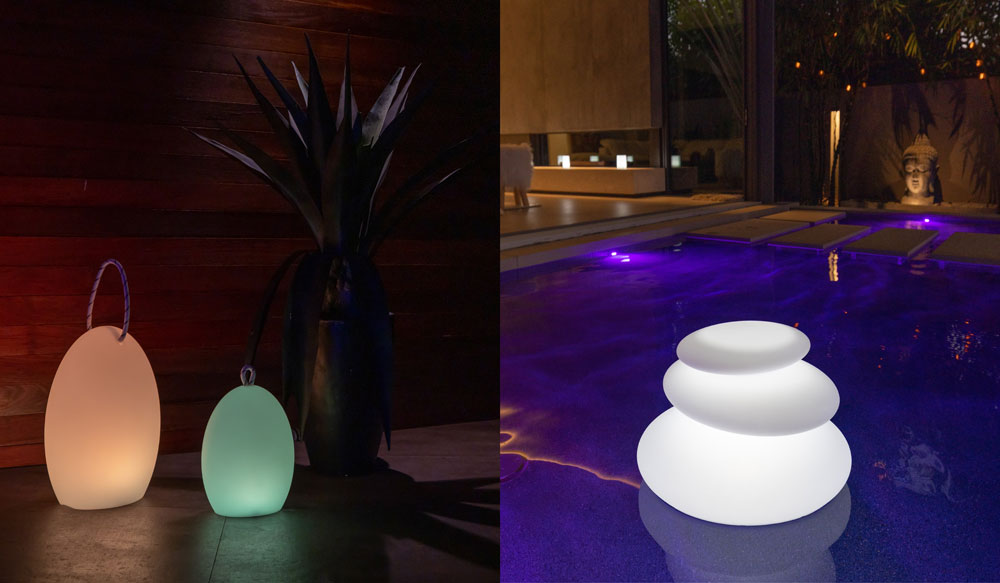 The AMANDE CORDE 395 LED lamp, with its tall rope handle, and the AMANDE CORDE 280, the smallest of the two, will fit in perfectly with your green decoration, in the middle of your plants. Thanks to their handles, you can move them about whenever you fancy a change. Their rope handles, which gives these lamps their uniqueness, will go beautifully with your natural decoration.
The ZEN lamp, with its stone shape, will compliment your natural decoration and bring a soothing atmosphere to your terrace, pool and even bathroom. Embrace the Candle mode for a soft, dimmed light and create your own relaxing space.
Which Bluetooth Lamps for a Bohemian style decoration?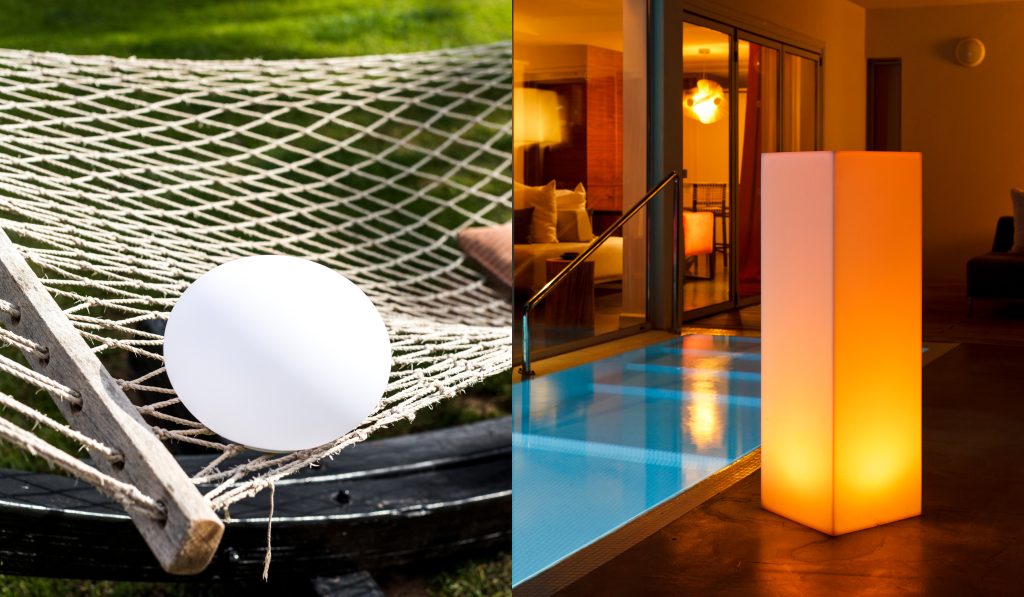 With its simple, elegant and refined design, the FLATBALL is must-have of the catalogue. Its natural and soft curves are in line with the round edges and natural-shapes trend of 2023. Adopt the XXS size for a cozy and calm light, or go for the biggest versions to bring some originality to your bohemian decor.
The modest and sophisticated design of the LED luminous columns SLIM BLOCK is a perfect ally for a bohemian decoration. With its different sizes that let you harmonize your lamps to every space, the SLIM BLOCK will create a luminous space and embellish your decoration.
Which Bluetooth Lamps for an Industrial style decoration?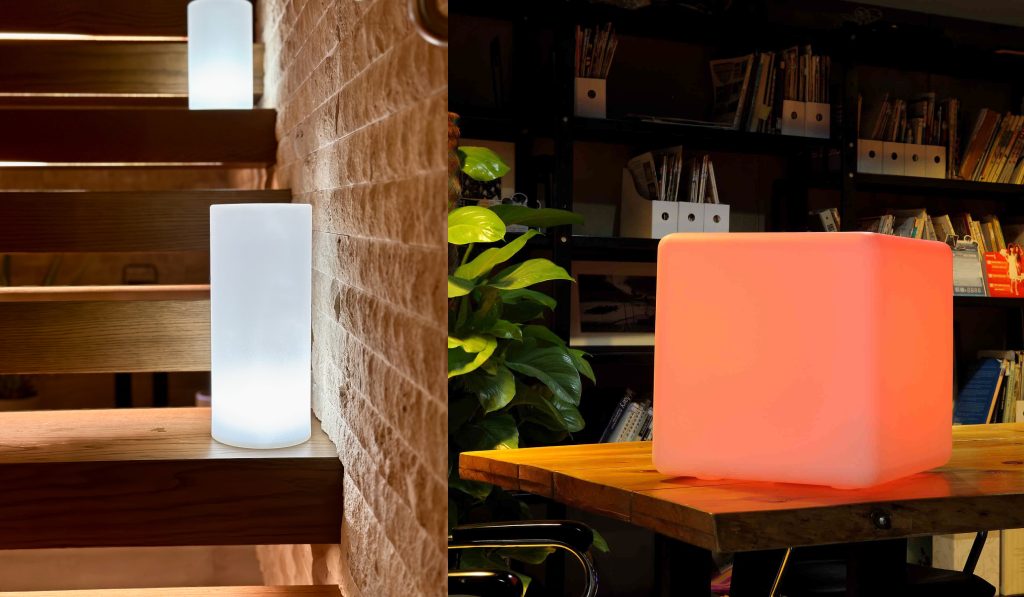 If you wish for a bold accent piece, right in the middle of your decoration, that will surely impressed your guests, embrace the 106mm tall luminous column TOWER L! Or, opt for the small formats, to create a luminous path along your staircase with a light on each step, or placed at the corners of your TV stand, for example!
For a successful industrial decoration style home, it is all about bold and strong accent pieces: The luminous CUBE line will stand out as an amazing centerpiece in your home. In addition to brighting up your home, in a wide range of customizable colors, from flashy to cozy, the CUBE lamps can even be used as modern design chairs! Totally in fashion!
Which Bluetooth Lamps for a Country-Chic decoration style?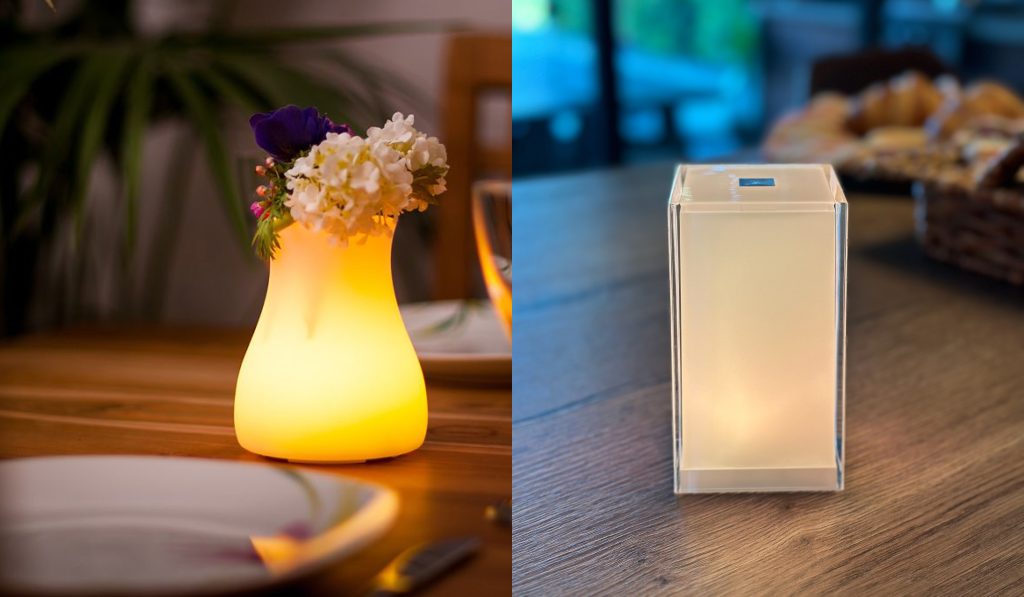 With its natural and elegant curves, the luminous vase OLIO is the perfect accessory for a country chic decoration. Embellish your prettiest flowers with a soft and cozy light, as a table centerpiece, on a kitchen counter or even on your nightstand.
The CUB table lamps small size gives you total freedom of customization. Let your imagination run free and move about your nomad lamp according to your mood. It will match your decoration beautifully as its glass shell will compliment the natural materials in a country chic decoration style.
Which Bluetooth Lamps for a Villa?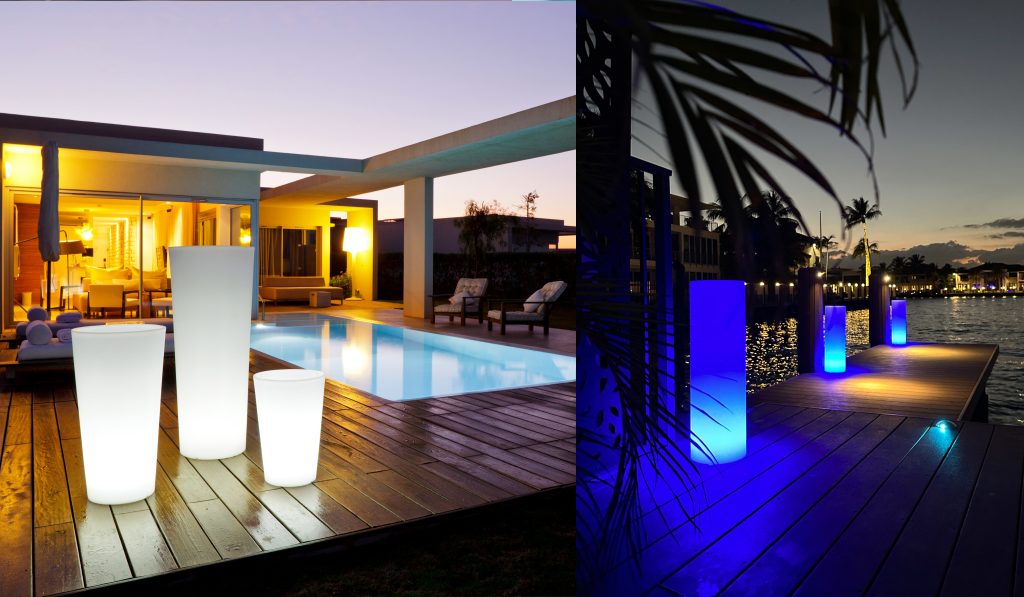 With its modern design, the TANGO line will be an incredible centerpiece in your interiors, as well as in your exteriors. Illuminate your terrace with these tall connected flower pots and embellish your plants with a multitude of colors.
The TOWER columns will be ideal to create illuminated paths and to bring life to your house during the night. Place them along the way to your doorstep or snugly along the outline of your swimming pool (they are 100% waterproof, of course!). 5 sizes are available, so they can fit in any kind of space!
Which Bluetooth Lamps to decorate a Swimming Pool?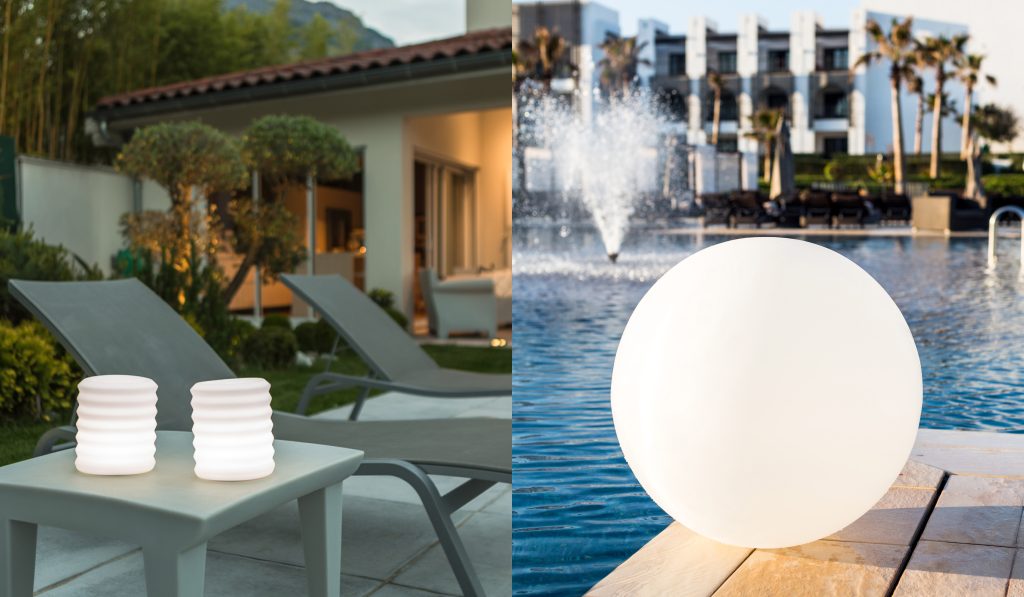 The LAMPION table lamp is truly versatile: it can be hanged from your sunshades or make a stunning table centerpiece. Inspired by paper lanterns, its design embraces tradition and modernism to create a friendly and warm atmosphere in your garden.
The BALL lamp is THE great classic of SMART AND GREEN. Turn your swimming pool into a must-be space in your home with these elegant luminous spheres and bring light and modernity to your exteriors. 100% waterproof and floating, the BALL line shines on your terrace as well as on the surface of water. Enjoy the 5 sizes available and the multitude of colors and ambiences.
Which Bluetooth Lamps for a Party?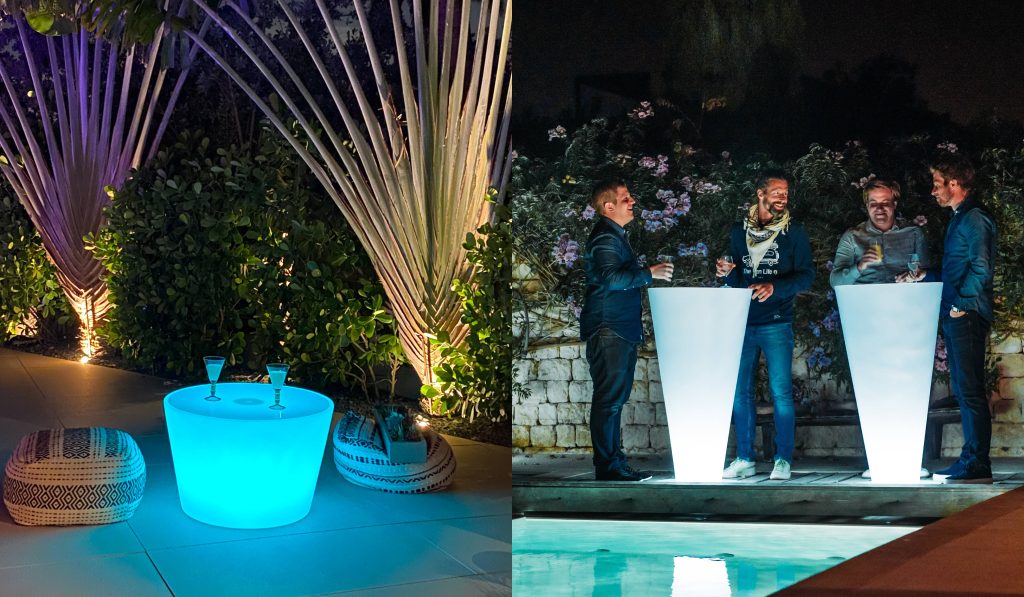 A show-stopping centerpiece in every parties, the luminous coffee table BASS will surely turn some heads! Topped with a Plexiglas tray for the big size, this bluetooth coffee table is perfect for any gatherings or sharing a drink with friends. Set the tone of your evening by picking from a multitude of pre-selected ambiences and colors!
The high bar party table UP is the detail that is sure to make an impression on your guests and make your party a night to remember! Perfect for every occasion and event, this party table is ideal to grab a drink with your friends and illuminate your summer evenings.
Which Bluetooth Lamps for a Table Center?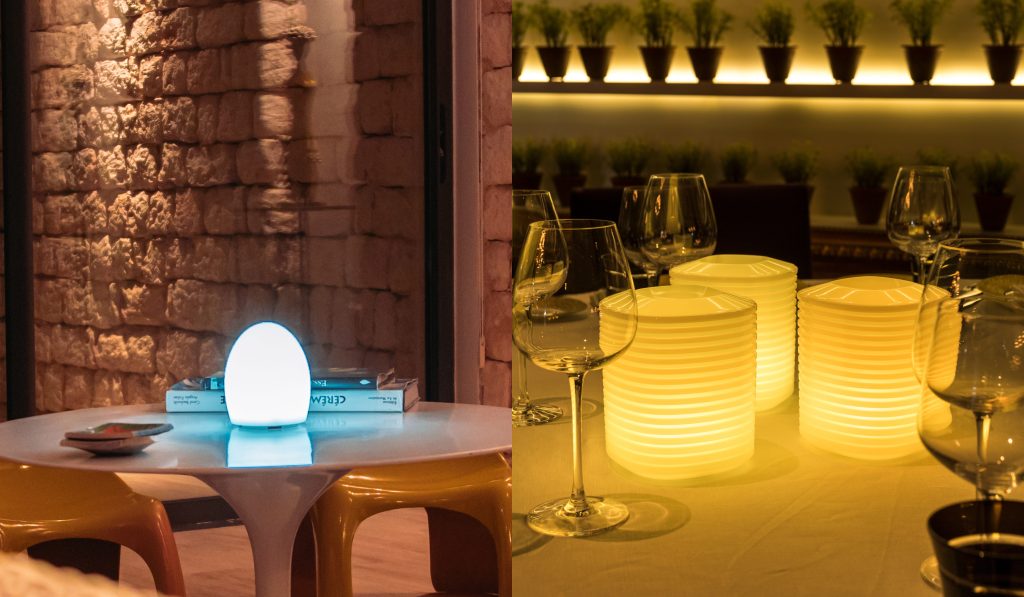 The nomad table lamp EGG and POINT are excellent table centerpieces, thanks to their modern and refined designs. Wireless, you can match their colors to your decoration through the SmartMesh app and illuminate your parties and diners in a trendy fashion.
The table lamp LANTERN blends traditional and modernism with its avant-garde design. Play with colors and their intensity to create different ambiences and awe your guests!
Choosing the right lighting is the key to bring your decoration to the next-level! Feel free to browse through our catalogue by clicking here to discover our entire collection and find the lamp made for you!