Time to read: 4 minutes.
It's finally summer! Days are longer, hotter and we couldn't be happier. It's the perfect time to take care of your place-to-be. We are, of course, talking about the pool and its surroundings! In this article, we will share our tips on how to turn your pool into a little oasis for your afternoons and summer evenings.
Decorate your Pool with Floating Lamps
It's in fashion at the moment: floating lamps in the pool. In addition to bringing a modern touch, the lamps' lights will reflect on the surface of the water at nightfall and will create an enchanting ambiance. Just imagine swimming in the middle of multiple colored lights after a long day. What a dream!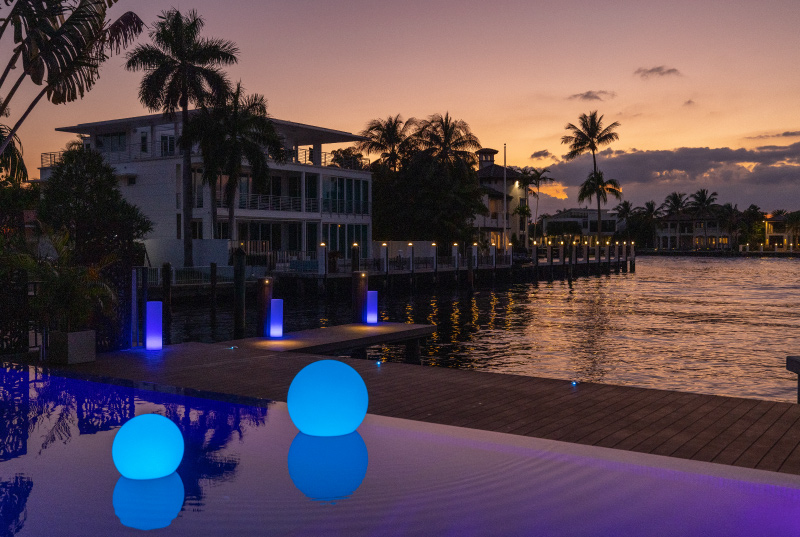 You can also strategically place your lamps along the edges of the pool to bring sophistication and create an elegant and unique lighting arrangement.
SMART AND GREEN's smart lights are your best allies to decorate your pool. They are 100% waterproof. Your children can cannonball right into the pool without a care in the world! For our floating lamps, all you have to do is to browse through the catalog and spot the ones with the Floating logo.
Here's a little selection of some of our floating lamps that will shine on the water:
The ZEN lamp, which will fit beautifully in a nature-inspired decor
The FLATBALL lamp, one of SMART AND GREEN's greatest classic
The ROCK lamp, with its sleek and up-to-the-minute design
SMART AND GREEN's smart technology allows you to manage your lamps remotely and to change their colors with a simply tap of the finger, with a variety of palettes to dress up your pool. Create a dimmed ambiance with soft colors or with the Candle mode, or spice up your summer gatherings with bright colors or with the Rainbow mode!
Our Ideas to Decorate your Pool Area
Sprucing up your pool's decking plays an essential role in creating an inviting and relaxing exterior space. Following the trend of natural materials, we are crazy about all-wood decking. Make sure to choose a non-slip and weather-proof wood, to blend security and aesthetic.
When we talk about what goes around a pool, we can't help but think about lounge chairs, a true staple! Don't be shy about adding trendy accessories like outdoor cushions or newspaper racks. SMART AND GREEN invites you to try and use the CUBE lamp as a side table! On top of playing the role of a modern lamp, where you can put your cool drink and sunscreen bottle, it will light up and bring color to your summer evenings.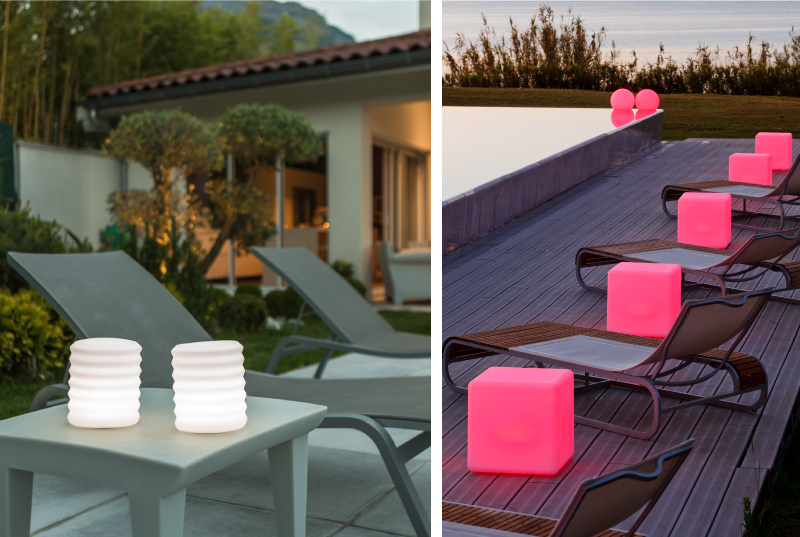 New this year when it comes to outdoor lighting is the modern-day lantern: a lamp that can be carried anywhere. At SMART AND GREEN, nomad lighting is our specialty and it is exactly what the nomad lamps VESSEL and VESSEL 2 were designed to do! With their elegant wooden handle, they will go alongside you through the garden to the terrace. With their Japanese lantern-inspired design, they will bring a relaxing atmosphere to your home. A blend of practicality and style!
The perfect place to cool off during the summer is the outdoor living room, where you can sit down, relax and enjoy the sunny days and a cool drink!
A great classic for an outdoor living room à la mode is the outdoor daybed, with its canopy. Accessories it with trendy throw cushions and opt for neutral colors like white, terracotta or sage green to awe your guests! We're not promising that it will be easy to get out of bed, afterwards!
Rattan is so in-style right now. This elegant woven material will bring a touch of nature and modernity. Use it without moderation for the outdoor daybed but also for garden chairs, coffee tables and even benches.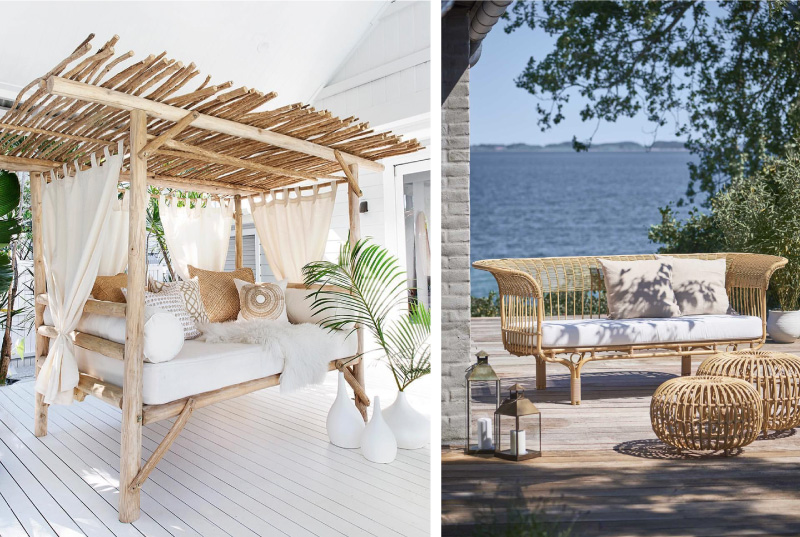 To create a peaceful safe haven, dare to use bean bags as well as outdoor throw cushions and opt for a draped canopy. With all this, all is left to do is to relax, do nothing and enjoy your summer break!
Designing your pool area lets your personality speak and express your creativity through decoration. Let your imagination run free and create unforgettable evenings for you and your guests. Make the most of summer and your pool area with our floating and connected lights!