Time to read: 5 minutes.
It is never too early to think about your Christmas decoration! Read all about the newest decoration styles and trendy DIY to deck the halls this year!
3 Decoration Styles To Adopt This Christmas
Traditional Christmas Decoration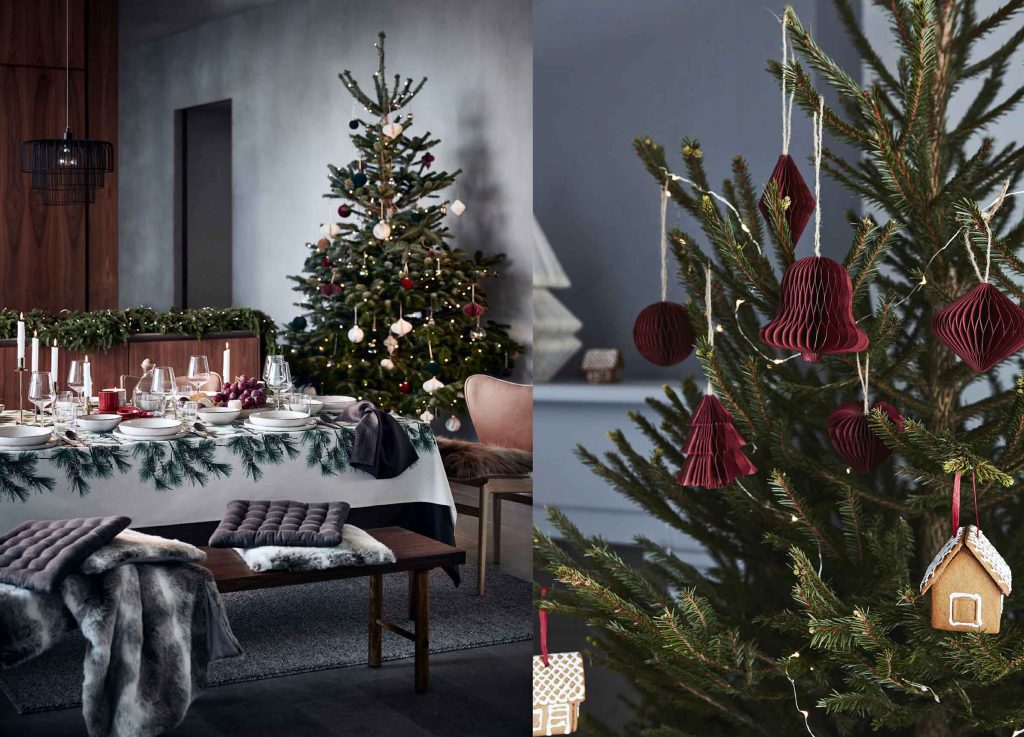 The perfect colors to decorate for a traditional Christmas home are the staples red and green, the colors of Christmas! To bring a little zest, don't hesitate to accent your decoration with little touches of gold for a chic and festive home. There is no traditional without our beloved Christmas characters! Embellish your fireplace or your table runners with little Santa Claus, Rudolphs and even elves, to the delight of the children and the adults! And speaking of table runners, the table lamps LAMPION or LANTERN will brighten up your evenings with style and creatively!
If you wish for a traditional decoration but with more original colors, you can modernize your decoration by choosing burgundy over red and forest green instead of a simple green. This darker and elegant color combinaison will be ideal for a sophisticated Christmas table. Little burgundy ornements for the Christmas tree and burgundy napkins will make a difference!
Nordic Christmas Decoration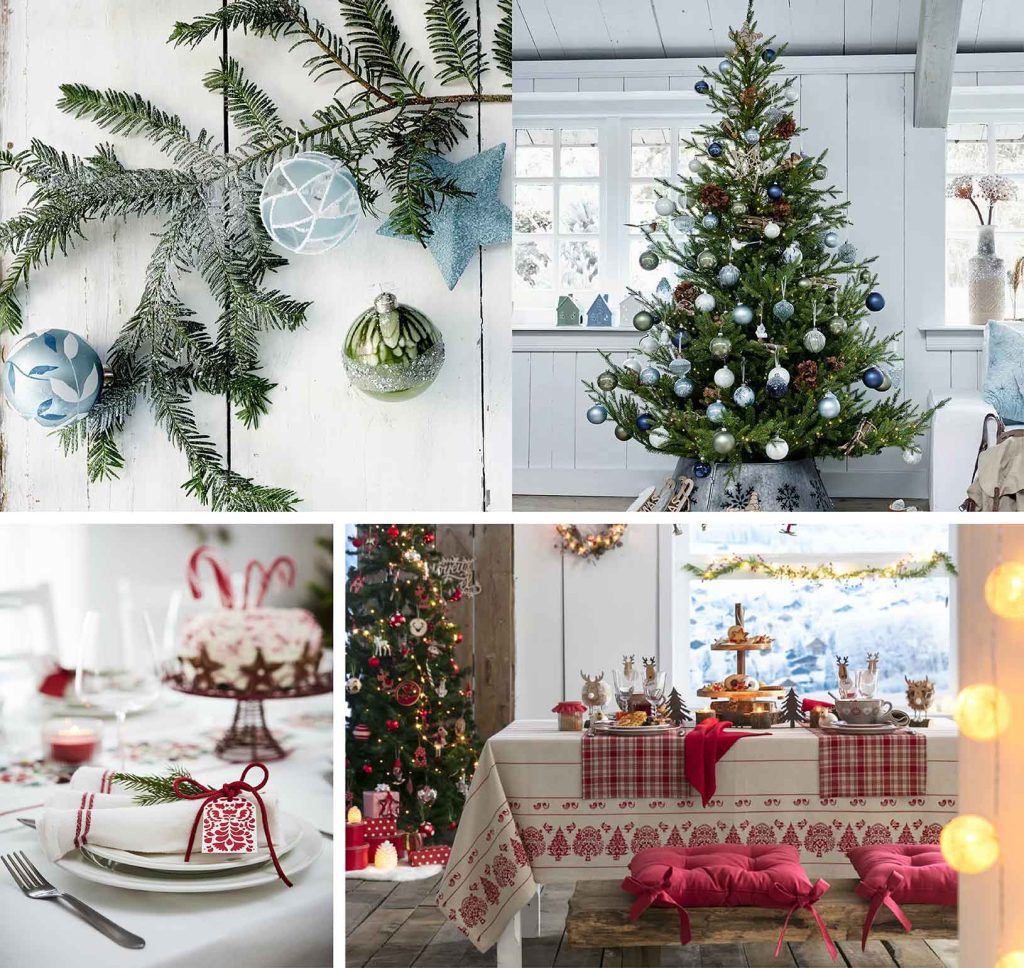 The Nordic style has bewitched us throughout the year and it is now invited to the Christmas festivities!
Go all out with the color white, that reminds us of snow and the north and which goes well with red accents, like on napkins, ribbons and even pillows. Be generous with patterns, like tartan or nordic knitting patterns to create a modern cottage effect!
If you want to bring more originality to your decor, the Nordic style matches beautifully with blue and white! Here, white is still a key color that you can embellish with cool tones like icy blue, which echoes winter and snow. Enrich your home with little touches of silver, on baubles for example.
Pour accessoiriser le style scandinave, on vous conseille les décorations naturelles, automnales et hivernales. Des rondins en bois clair pour des dessous de plat ou des bouquets de fleurs séchées seraient des additions idéales.
To accessorize your Nordic style, we advise you to use natural, winter and fall decorations. Round wooden logs as trivets or dried leaves bouquets would be ideal additions. If you want to discover similar ideas for a natural home decor, read our article: Decoration trends and DIY to embrase this fall.

Eccentric Christmas Decoration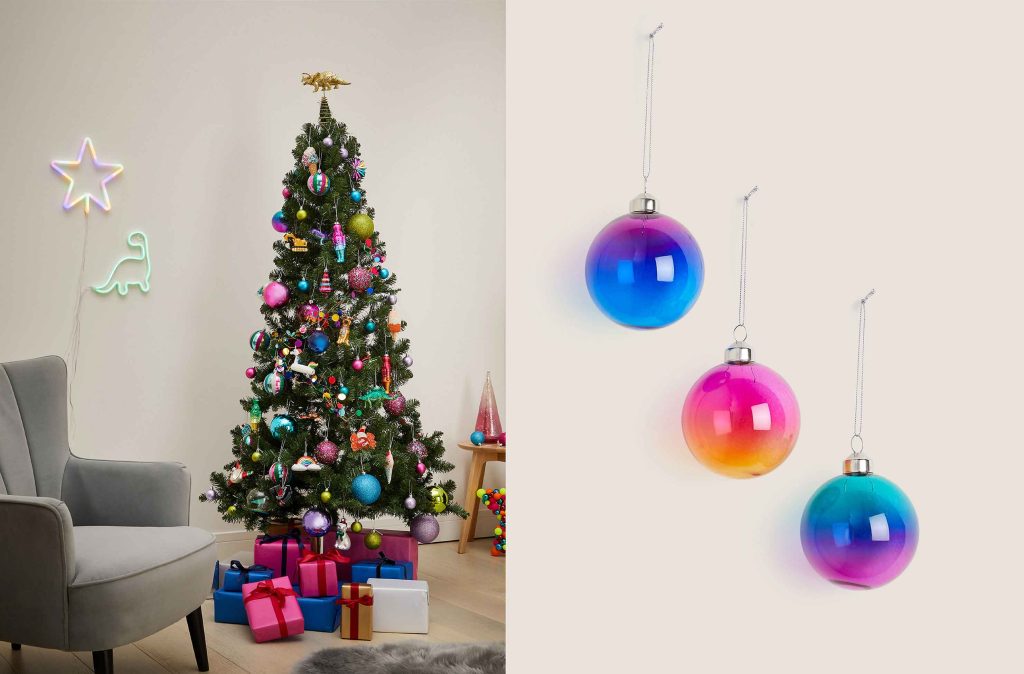 After a not-so-easy year, a growing trend for Christmas 2022 is the return to festivities, optimism and carefreeness! The holidays are an amazing way to express your creativity and to show your personality!
Eccentric, fun and exciting decorations are all the rage in 2022 and Christmas trees are being decorated with dinosaurs and even vegetable baubles! Something to warm up the hearts of children and adults alike! People are looking for freedom through colors and they are not scared to pick many. The trick here is to keep the colors in the same spirit, whether they are pastel or neon, to create a unity between all of them. They key word, here, is to "have fun"!
For an original, exciting and fully customizable fireplace, the smart lamps CUBE can act as modern and trendy chairs that you can move about to create a cozy sitting area by the fire. Harmonizing your bulbs colors with your decoration will do the trick!


Top 4 DIY ideas for Christmas

Handmade decorations and gifts are the perfect way to combine creativity, ecology and fun! Discover our top 4 DIY ideas made out of recycled material.
Wooden Christmas Tree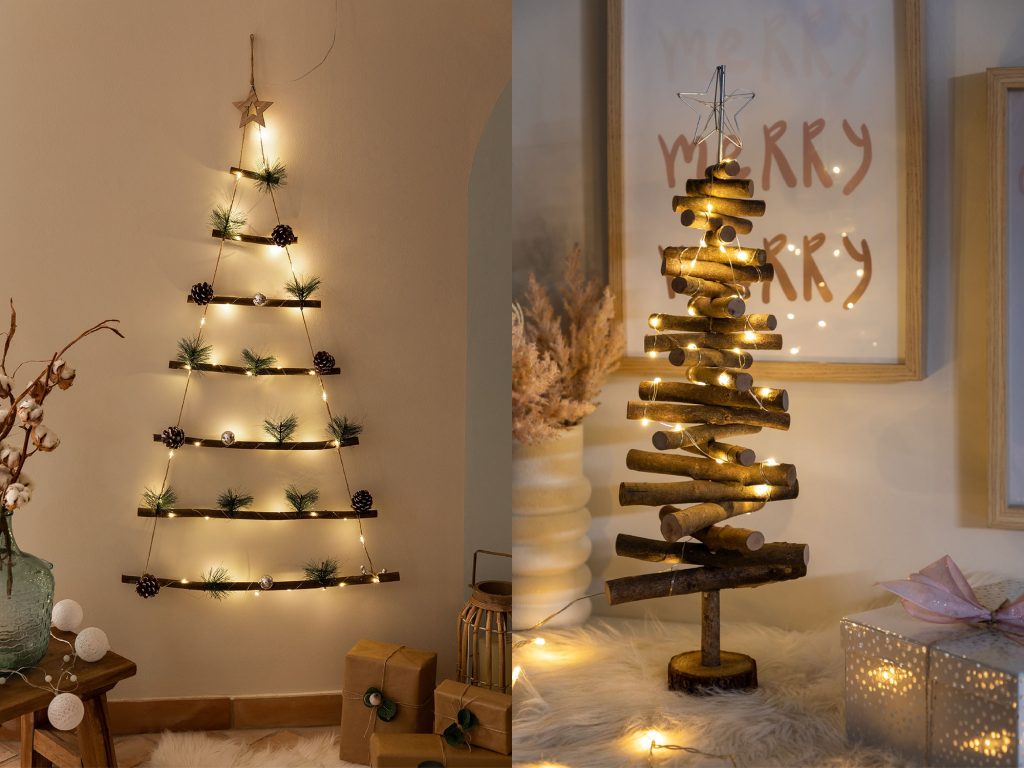 In addition to being eco-friendly and reusable, these new trendy trees are the best centerpiece to decorate your living room. What a great way to dazzle your guests!
Easy to do, these trees are fully customizable. Using a rope or a strap, all you need to do is to attach bare wood branches to their ends, starting from the shortest to the longest. A dozen will be enough. If you wish to paint them to match with your interior decoration, it will be easier to do so before attaching them. You can then hang your Christmas baubles and your little characters to the branches or decorate them with ribbons.
Wrapping Gifts with Fabric
No more not eco-friendly wrapping paper! We love this new trend where gifts are wrapped with fabric instead of paper. In addition to bring a little vintage vibe to your gift, the fabrics are reusable and come with a lot of colors and patterns, giving you the freedom to match them with your Christmas tree decoration style.
Origami decoration
Here's an activity perfect for children! Choose among numerous designs, like the famous Christmas tree, snowmen or even Santa Claus himself to decorate your tree, your fireplace and your Christmas table! For sturdier origamis and good quality paper, cardstock paper will be the perfect choice, as it also comes with a large variety of color, ideal to harmonize your origamis to your decoration style. A lot of tutorials and DIY are available online, it is up to you to pick you favorites!
Handmade Advent Calendar

A handmade Advent Calendar is an excellent gift for a child or a loved one and can be a great craft projet. Use recycled material like small paper boxes, tote bags or paper bags, glass jars and even coconut shells (for our friend living in the southern hemisphere, of course!)
Feel free to customize your calendar to match your Christmas decoration, and carefully pick out the perfect daily little surprises for a great gift!
FEELING LIKE CELEBRATING?
The holidays are coming soon! Have you thought about your gifts? Discover the smart, bluetooth and waterproof lamps from SMART AND GREEN!