Time to read: 5 minutes.
The Fall season is upon us! It's time to say goodbye to relaxing by the pool and fresh drinks on the terrace and say hello to comfy hoodie, pumpkin spice lattes and moody decor!
We're here to give you advice on how to transition with style your summer decor into the new season. Follow along and tell us what you think in the comments below!
Fresh Up Your Space by Swapping Out Items
They key with changing your decor from summer to fall is to start small. What we'll see this year in terms of fall decor is adding a subtle touch of fall and moodiness into your house without going all out on a theme.
For a smooth transition, swapping out items is something easy and stress-free, as you can do it little by little, without breaking the bank!
For example, around the couch, changing up your throw cushions for a fabric with more texture like tweed. Multicolored tweed is sooo trendy this year and a must-have for a vintage style decor. You can also swap out your throw blankets for something heavier, a chunky wool would match the vibe!
Everything with cozy fabrics or textures is a great idea. Faux fur or chunky knitting will set the tone and bring your interior to the next season. For a more luxurious feeling, we fell in love with velvet, which is so à la mode in 2023 and will bring a little touch of drama to your home!
The curtains are also a great option to help you ease in the sweater season mood. Change them up for heavier drapes and be bold with geometric or vintage patterns for a super trendy look!
For beddings and bed sheets, swap out your cotton bedding for something heavier like flannel or wool. You can go for cool tones and mix them with textured fabric for a cozy bedroom, perfect for reading and relaxing in bed. If you live in a warm climate, darker colors and patterns can also work!
Finally, what's best for a smooth transition from summer to fall is swapping out decoration items on your shelves, counters and coffee tables! Our favorite decoration idea is a tray you can place on your coffee table in the living room, filled with fall goodies! We're talking books, candles, flowers and of course, a potpourri.
For a cozy, home-y scent that will put you in a happy and relaxed mood, you can follow our potpourri recipe here: Decoration Trends and DIY to Embrace this Fall
Top 3 of Fall Trends 2023
We did some research (and had a little cinnamon roll break) and gathered some of the best trends for bringing your home to the next level this fall!
1. Curves and Round Shapes Are (Still) In
Since the end of 2020, curves have been everywhere! They truly became a staple in modern design, and understandably, as experts agree to say that these round shapes and soft curvatures create a calm and soothing effect. And, as opposed to sharp lines, help our mind relax. After all, coziness and a warm home is what we are looking for during fall, and curves are one of the best ways to create a friendly atmosphere.
Curves and soft shapes can be used everywhere, but here are some good options we picked out:
Arches
Chairs
Coffee, dinner and side tables
Couches
Pillows and cushions
Clocks, mural and other wall decorations
2. Bold Earthy Colors for a Moody Fall Decor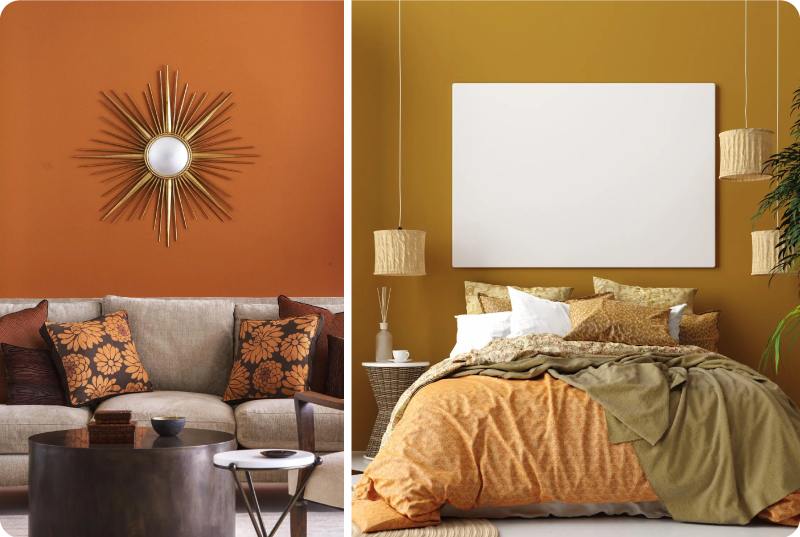 This fall, bold earthy tones are stealing the spotlight!
For the front door, a central piece of furniture (like the couch) or even with color blocking, the key is too let these quirky bold colors shine through by putting them against dark, cool and moody neutral backdrops.
Honey is THE color of fall 2023! It's a cozy, natural color that will bring warmth to your home and it's on every designers mind right now. To really make it pop, you can combine it with cooler tones like avocado green or sand.
3. Vintage Is The New Modern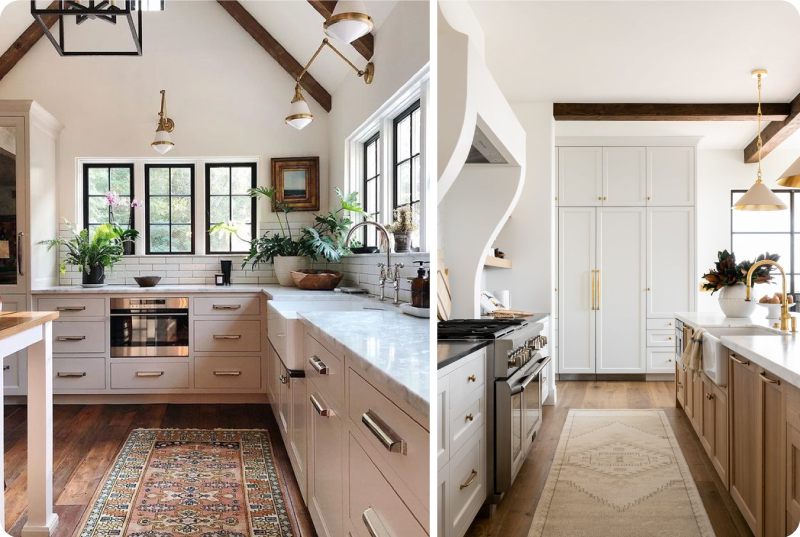 One of the best trends that we really fell in love with is the mixing of vintage and modern elements to create an interesting visual contrast. Having a vintage boho rug right next to a modern sleek kitchen, or a boho macrame hanging wall decor placed above a modern minimalist couch brings such a compelling personality to a home.
Vintage decor, through the 60s to the 80s, has been popular for a few years now and with this mixing of vintage and modern, we are seeing the future of this inspiring trend!
Get ready to cozy up your home and welcome the beauty of fall as you transition from summer decor to the latest fall trends of 2023.
We have a little surprise: we have gathered a collection of connected lamps carefully picked out for a fall decor! Try them out with their built-in Candle mode for comforting and soothing (and smart) lighting!